Founder of Royal House Chapel, Sam Korankye Ankrah, has admonished government to cut down public expenditure to encourage the citizenry to repose their confidence in them.
According to him, governments encounter resistance from the public due to observations the latter have made over the period on how public funds have been used and, in some cases, embezzled by office holders.
Mr. Korankye Ankorah believes that if the government will review their expenses which are borne by the tax payer, the general public will not hesitate to contribute to the development of the nation by way of honouring their tax obligations.
"We are asking the members of the ruling class to show the example by cutting down our national expenditure. They must punish themselves a little bit and when we see that expenditure is being cut down, if they call upon us to pay taxes, whatever they ask us to pay, we shall pay with gladness and willingness, because we all know that we all suffer to gain," he said.
He made the statement at a ceremony held in Accra on February 7, 2022, a programme which saw a United State (US) President's Lifetime Achievement Award conferred on.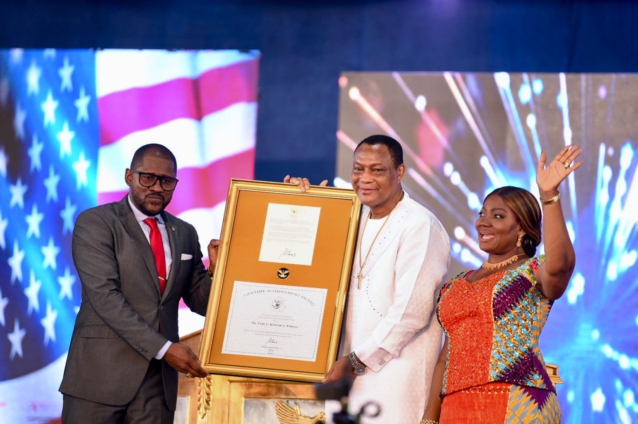 The preacher added that the citizenry voted the government into power to manage the affairs of the state, to ensure development in all sectors of the economy, but the failure of many to live up to expectation and use their positions to amass wealth form themselves, have led to anger and many challenges experienced in jurisdictions across the African continent.
"But if our politicians place at their heart, first and foremost, the desire to see this nation move forward, all of us as citizens of this nation will have an equitable share of the national cake. If they ensure that our young people will get the jobs to do, if they can ensure that people can put food on their table three times a day, if they can ensure that our children are educated, if they can ensure that at the end of the day, everybody can get a place to lay your heads, nobody will complain, nobody will fight, there will be no agitation and there will be no reason for any military intervention in our nation," he said.
While blaming the instabilities within the West African Sub-region on African leaders for failure to prioritize the needs of the ordinary citizens, Mr. Korankye Ankrah believes "this is not the time for military interventions". He said, "we've had military interventions previously, it didn't help us. Corruption went high, our institutions broke down, law and order broke down. We didn't see any development and so let us put our hands together and let's make our democracy work."