Imagine living a routine, serene and orderly life as a Catholic priest for the most part of your life and subsequently flipping the coin to become a married Anglican clergyman.
Well, that's the story of Rev Canon Charles Amankwah, who was a catholic priest for 17 years.
Rev Canon Amankwah said he was mentored by the Metropolitan Archbishop of Cape Coast Charles Palmer- Buckle prior to his formative period as a catholic priest.
Education
He holds a Master's Degree in Religious Education and Pastoral Ministry from the Catholic University College of Ghana, Sunyani, Post Graduate Diploma in Education from the University of Cape Coast and Diploma in Theology from the University of Ghana, Legon.
Rev Canon Amankwah has so far written quite a number of books including "God has not finished with you yet". His 15th book will be launched later this February.
Ministry
Prior to becoming an Anglican clergyman, he was an assistant parish priest at the Holy Trinity Parish at Agormanya in the Eastern Region. He was later appointed parish priest of the St Barbara Parish at Akosombo in the Eastern Region.
Rev Canon Amankwah is currently the diocesan evangelism director and also the director for the choir at St Mary Anglican church at Atechem, Dunkwa-On-Offin in the Central Region.
Report suggests he left the Catholic church because of his decision to establish a prayer ministry which resulted in some activities that went contrary to the rules of the Catholic Church.
He subsequently sought permission to take a leave and went to Kristo Buase Monastery in the Bono Region for 50 days to reflect on his life. Upon his return, Rev Canon Amankwah was counselled by Archbishop Palmer-Buckle before taking the decision to leave the Catholic church.
He will be celebrating 26 years in the ministry later this year.
Marriage
Rev. Canon Amankwah got married to Ruth Amankwah, a teacher who came into the union with three kids.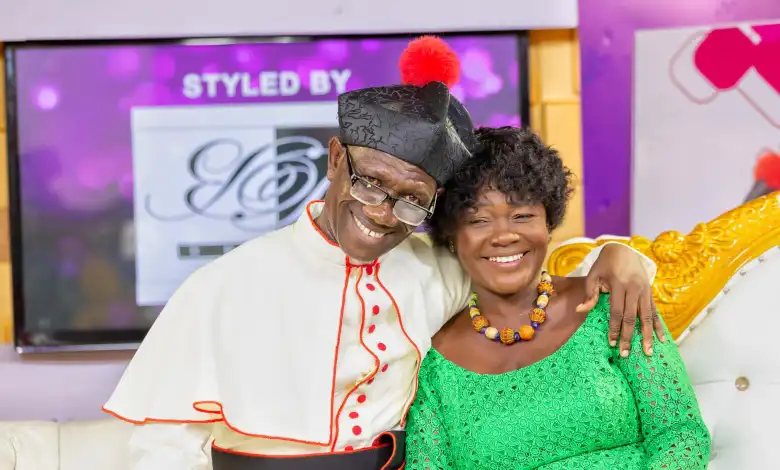 According to him, it was very difficult proposing to Ruth, so he had to let his father do it on his behalf.
"Proposal was difficult," he said. "I couldn't propose to my wife, it was my father who proposed to Ruth for me."
He said he had wanted to marry someone who knew his story as a catholic priest. Rev Canon Amankwah has been married for the past nine years.
Sexuality 
"My first night as a married man was not easy," the religious leader recalled. "I just couldn't imagine going naked before my wife. I had to pray to muster courage to have canal knowledge of my wife. And since then, anytime we're going to have an affair, I pray before the act."
He said there was no sexual intimacy between him and Ruth prior to their union.
Rev Canon Amankwah and Ruth recently appeared on The StandPoint show with Oheneyere Gifty Anti where he shared his story and some nuggets on marriage: